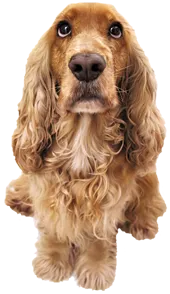 The River Valley House Call Vet is proud to provide quality veterinary care to dogs and cats in the Hampshire & Franklin County Areas of Western Massachusetts.
How Do House Calls Work?
Dr. Allen answers the phone and personally returns calls from her home office. She travels to your home in her wagon, packed with everything needed for morning or afternoon appointments. Phone messages are checked during the day between appointments and e-mails once daily. As more time is spent with travel, pets, and people, she limits the number of daily appointments in order to allow some time in the schedule each day for urgent needs. When Dr Allen arrives for a House Call, no special space is required. What works best is a comfortable place, sometimes the kitchen or living room, or outside on the porch or in the yard. Dr Allen usually spends most of her time on the floor with her furry friends. Seeing animals at home gives her the opportunity to better understand their lifestyle, activity level, interactions with other pets & family members, as well as owners concerns with things like inappropriate eliminations. Pets and people are much more relaxed at home without carrier, travel or waiting room experiences. If running more than 15-20 minutes behind schedule, Dr Allen will call ahead, giving you time to do anything you like. It is simply more convenient. House Calls can take as little as 20 minutes or as much as 1 hour if need be. Multiple pet households benefit from scheduling House Calls once or twice a year, or more as needed. This gives us the opportunity to get all the pets on the same schedule if desired or follow up on concerns with one pet during another's visit. House Calls are much easier for some folks and some four leggeds who have difficulty getting each other to the vet. Dr Allen can now come to them instead. (Tell a friend!) You save time and get more time with a vet who cares, listens and is able to help. With her old fashioned less is best approach and desire to help with the things that matter most, many folks actually save on the cost of vet visits, despite the House Call fee. The fee is typically $60-75, depending on time & travel, regardless if 1 or 2 pets is being seen, a litter or even an entire herd.